Touch Screen Development Kits
Start at $349. 2,500+ kits sold to date. 100% Satisfaction Guarantee.
Development Kits include everything you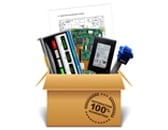 need to create a prototype quickly. When you are ready, move smoothly into production with off-the-shelf display modules that offer 5-7 years availability as a minimum. Kits generally ship from stock within a day of receiving an order.
Proven Hardware
Full Technical Support
Long Term Supply
100% Satisfaction Guarantee
Set Up a Development Kit Video
Product Specific Documentation
Frequently Asked Questions
Order a Development Kit
Other Ways to Order: Call or Email
Call Reach Sales at 408-754-4176 or email sales@reachtech.com and we would be happy to help take your order. Download Development Kit Form
Development Kits for Prototypes
Development Kits are available for engineers working on prototypes, and therefore orders are limited to two units.
See Also
Watch how to how to get a kit up-and-running once your package arrives. More videos.
Learn more about how a kit lowers your development risk. More videos.
Talk to an Engineer
Talk to Sales
Around for the Long Haul
In business 25+ years, with modules in production 10+ years. 400+ active customers. More
Made in the USA
For quality and availability, we make controller boards, assemble display modules, and staff all positions in the USA. More