7″ Display Modules
These modules make integration easy. Each unit comes with an LCD, controller board, backlight driver, and touch screen, integrated and ready to go. The module form factor is designed to ensure long-term product availability.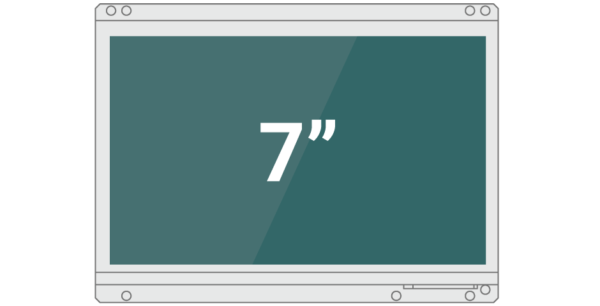 Units combine a multi-function processor board and an industrial 7-inch WVGA (800×480) TFT color touch LCD.

Memory card slot for added flexibility.

Designed for long-term availability with a 10+ year processor life and a multi-sourced, industry-standard LCD form factor.
7″ SCLD Modules
Build a user interface with your custom images or our image collection. Connect your system's microcontroller to the SLCD module using a standard asynchronous serial port. COMPARE DEVELOPMENT ENVIRONMENTS>
Legacy Products Shape Future Display Modules
Customers have been using SLCD5+E controller-based products since 2011. When the Renesas processor reached End of Life in April 2023, we offered a Last Time Buy to customers. New 7″ drop-in, form-fit-function units with a new processor will be released in 2024 as a long-term replacement. Learn more about the products shaping the development of new 7″ display modules by using the links below to get product information, download manuals, review mechanical specifications, and more. This means you can start with 7″ development kits now and transition to the new modules when they become available.
7″ G2H2 Modules
Use a Qt Integrated Development Environment with drag-and-drop tools to design a user interface. Connect to the G2C1 module using one of many I/O options. COMPARE DEVELOPMENT ENVIRONMENTS>
Custom Modules
Don't see a match for your needs? We feature our most popular products online, however other modules may exist. See Custom Modules for details.