Qt Embedded Touchscreen
Reach Technology Qt embedded touchscreen modules make adding a touchscreen to an embedded system using Qt easy.
Qt IDE with Drag-and-Drop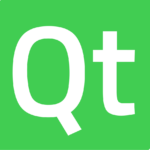 Our Qt embedded touchscreen modules allow you to use a Qt Integrated Development Environment with drag-and-drop tools to design a user interface. So, you can create high-performance embedded systems with user interfaces and deploy and test on Reach target hardware from day one. Qt has everything you need to design, develop, test, deploy and maintain your software throughout the product lifecycle of your embedded device.
Then, you can connect to the Qt embedded touchscreen G2 modules using one of many I/O options. Modules interact with your system either via the module's serial port to a microcontroller that handles I/O or directly using onboard interfaces including Ethernet, WiFi, USB, CAN, I2C, UART, etc. Compare Modules: Be sure to filter for "G2" modules as our "SLCD" modules do not support Qt development.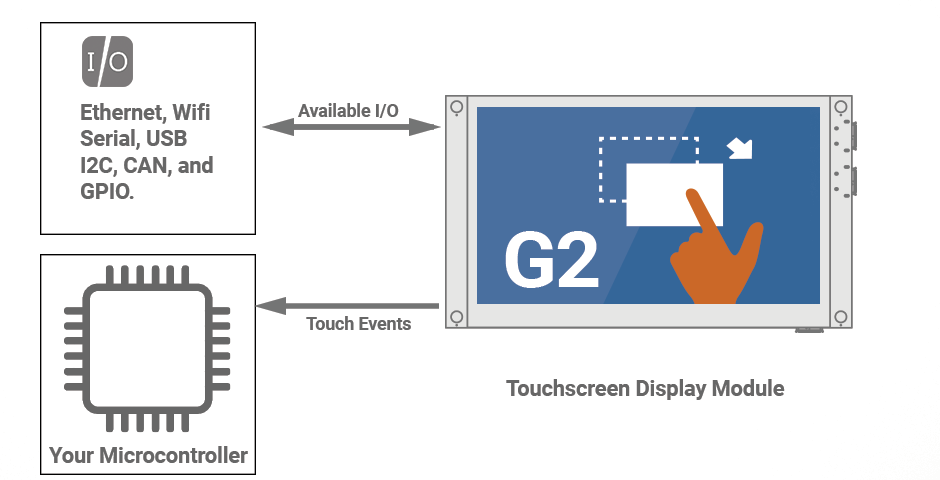 Qt Embedded Touchscreen Integration Options
Choose between two main ways to connect modules to your system architecture.
Directly Using On-board Interfaces
G2 modules can act as miniature Linux panel PCs and connect to smart system components via any of their interfaces including Ethernet, WiFi, USB, CAN I2C, UART and more. Examples include:
Embedded Web servers
USB multifunction data acquisition modules
CAN motor controls
Contact us to see how we can make this work for your project.
Via Serial Port to Microcontroller
G2 modules run your GUI and connect to agents to perform your product's core functions, such as running a skin laser. We provide the software components, which include a translation layer that insulates the core function microcontroller from GUI changes. This separation allows GUI design to be flexible without requiring the embedded microcontroller code to be changed.
Programming Options
While G2 modules are Linux-based –  you do not need to be a Linux developer to use them. Our solution allows developers to use Windows GUI tools and for Linux developers, we provide a Virtual Machine with all the tools needed to develop.
Development Tools and Languages
Use development tools and languages familiar to you to design a user interface and control devices attached to a G2 module. There are a couple of options in addition to Qt Creator to consider.
What is Qt for?
Qt is used for developing graphical user interfaces (GUIs) and multi-platform applications that run on all major desktop platforms and most mobile or embedded platforms. Most GUI programs created with Qt have a native-looking interface, in which case Qt is classified as a widget toolkit. Source: Wikipedia
What is a Qt Interface?
Qt is a cross-platform application and graphical user interface (GUI) framework, a toolkit, that is used for developing software that can be run on different hardware platforms and operating systems. Source: Techopedia
How does Qt Work?
Qt uses a command line tool that parses project files in order to generate "makefiles", files that are used by compilers to build an application.
How can I get started with a Qt embedded touchscreen interface?
The number of options when adding a display or touchscreen to your product can be overwhelming. Let us know in the form below a bit about your project and what is important to you, and we will have an engineer from our team follow up with suggestions for you. Or pick up the phone and contact our pre-sales engineering team at 503-675-6464 or email techsupport@reachtech.com.

Get Started Quickly with a Qt Embedded Touchscreen IDE Kit

Development Kits from Reach Technology include everything you need to create a full prototype using Qt quickly.
When you are ready, move smoothly into production with off-the-shelf display modules that offer 5-7 years availability as a minimum. Kits come with all the hardware and software you need, including full technical support and a 100% satisfaction guarantee.