8.4″ SLCD5+
Part Number: 51-0103-31
Customers started using SLCD5+ display modules in 2011. In March 2023, the NXP MX21 processor used in this SLCD5+ display module reached End of Life. Customers were offered a Last Time Buy, see details in Product Change Notification 000045. Read more about our approach to Long-Term Supply.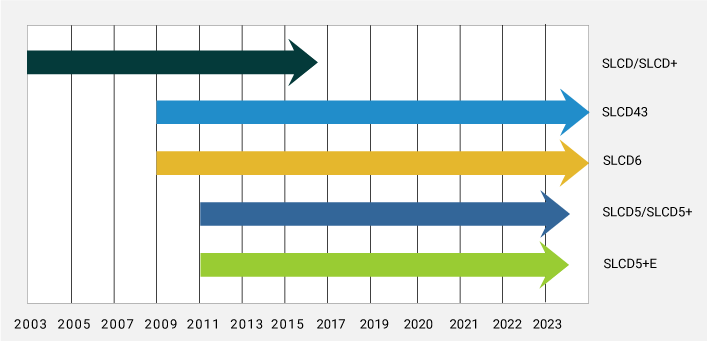 Need something else?
Our team is working on new products that will be released in 2024. Let us know a bit about your project and what is important to you, and we will have an engineer from our team follow up with suggestions.
Powered by the SLCD5+ controller:
One RS-232 and one RS-485/RS-422 serial port.

266MHz ARM Processor. 28MB highly reliable NOR data Flash for user downloadable bitmaps with optional RLE compression. SD memory card slot for added flexibility. Audio beeper.
All 8.4″ modules feature:
Units combine a multi-function processor board and an industrial 8.4-inch wide viewing angle VGA (640×480) TFT color touch LCD.

Created especially for medical and industrial equipment that demands long avilability.

Designed for long-term availability with a 10+ year processor life and a multi-sourced, industry standard LCD form factor.

ESD and EMC results available to ease regulatory compliance testing.
3D Step-File To Download: Right Click and Choose "Save Link As"
SLCD5+ Controller
CPU: 266MHz ARM Processor
Storage Capacity: 28MB highly reliable NOR data Flash for user downloadable bitmaps with optional RLE compression. SD memory card slot for added flexibility.
I/O Interface: One RS-232 port, and one port that can be RS-232 or 3.3v CMOS, or converted to RS-422 as a manufacturing option.
Audio: Beeper
LCD Display
Display Type: 8.4" Diagonal TFT Color LCD
Resolution: 640 x 480 VGA, Full 24-bit Color
Orientation: Landscape
Luminance (with touch): Typical 800 (cd/m²)
Viewing Angles: 80/80 left/right, 80/60 up/down
Backlight: LED
Manufacturer: NEC
Get detailed panel specifications.
Touchscreen
Type: 4-Wire Analog Resistive
Durability: Over One Million Touches
Dimensions
8.10″ W x 5.99″ H x 1.28″ D
Environmental/Regulatory
Operating Temperature: -20 to 70° C; the LCD temperature range primarily limits this
Storage Temperature: -30 to 70° C
Humidity: Max 90%RH at 60° C; No Condensation
RoHS 2 Compliant: Yes
Power Requirements
Power Supply Voltage: +12VDC±10%
Power Consumption: Max 900mA
Grounding
The board mounting holes connect to a digital ground. These must be connected to a chassis ground either directly or through a transient protection diode for ESD. The resistive touch circuit has ESD protection that shorts ESD on the touch panel to the board mounting holes.
Mounting Options
For 8.4″ modules, Reach Technology provides mounting brackets and enclosed units. Visit Mounting Options for more information.
Application Notes
See Application Notes that apply to SLCD5+ and all modules.
Downloads
Download individual components using links below, or get this ZIP file that contains the most recent product information File Package (.ZIP) 

.
Firmware
Download ELF file with the current version of the firmware.
Software
Use BMPload to download bitmaps and macros to SLCDx Flash memory from a PC.
Demos
Contains example macro applications, images, and fonts. Use BMPload to program display module.
Fonts
Display modules come with standard fonts. Get additional fonts from the Fonts Library, which contains fonts with extensive support for non-English (Latin) character sets. Use BMPload to program the display module.