5.7″ High Resolution VGA SLCD5+
Part Number: 51-0103-81
The 5.7" Evervision Display used 51-0103-81 reached End of Life status. See details in Product Change Notification 000044. Part Number 51-0103-82 uses the display our engineering team identified a form, fit, and function replacement. The only difference, not noticeable to the eye, is a slightly narrower viewing angle of five degrees (60/70 Up/Down vs. 55/65 Up/Down). See new panel specification.
Customers started using SLCD5+ display modules in 2011. In March 2023, the NXP MX21 processor used in this SLCD5+ display module reached End of Life. Customers were offered a Last Time Buy, see details in Product Change Notification 000045. Read more about our approach to Long-Term Supply.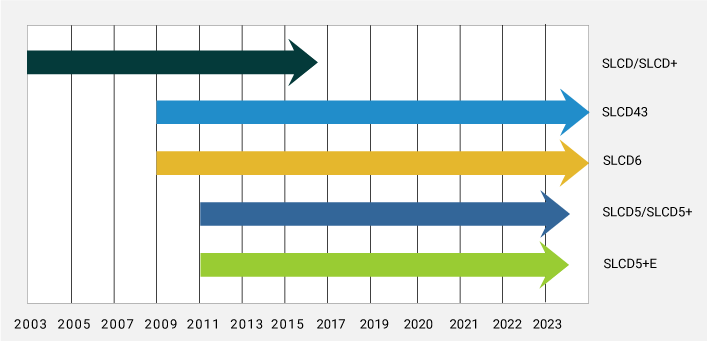 Need something else?
Our team is working on new products that will be released in 2024. Let us know a bit about your project and what is important to you, and we will have an engineer from our team follow up with suggestions.
3D Step-file

To Download: Right Click and Choose "Save Link As"
File Package
Download individual components using links below, or get this ZIP file that contains the most recent product information File Package (.ZIP) 

.
Firmware
Download ELF file with the current version of firmware.
Software
Use BMPload to download bitmaps and macros to SLCD6 Flash memory from a PC.
Demos
Contains example macro applications, images, and fonts. Use BMPload to program the display module.
GUIFX: Demo was written by user interface design partner.
IKB: Example of the on-screen keyboard.
Fonts
Display modules come with standard fonts. Get additional fonts from the Fonts Library which contains fonts with extensive support for non-English (Latin) character sets. Use BMPload to program the display module.