An Easier Way to Add a Medical Grade Touchscreen to your Device
Adding a touchscreen adds a significant layer of complexity for medical devices due to extensive FDA rules and guidelines regarding software validation. To reduce the risks and shorten development time vs. an in-house solution, medical device companies have turned to Reach Technology medical grade touchscreen display modules.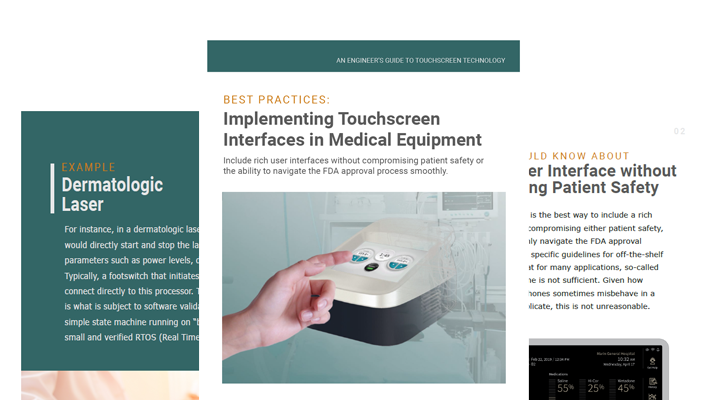 See how to add a medical grade touchscreen user interface without compromising patient safety and divide critical software from user interface software by downloading the Touchscreen FDA Software Validation Methodology white paper. Estimated Reading Time: 6 Minutes
Getting a medical grade touchscreen up and running in-house is time-consuming and expensive.
Takes engineering focus away from core competencies.

Little changes cause big problems related to maintaining the solution over time.
Instead, use off-the-shelf medical grade touchscreen display modules from Reach Technology.
Range of sizes: 4.3″, 5.7″, 7″, 10.1″, 12.1″.

Input/output, processor, memory, and touch type options.

Development environment options: serial connection with simple commands or Qt IDE with drag-and-drop.

Proven hardware, full technical support, 10+ availability.
Get Started with a Medical Grade Touchscreen Development Kit
When you are ready to add a medical-grade display or touchscreen to a device, Reach Technology Development Kits can give you a jump start. They include all the hardware, software, and support you need to create a prototype quickly. When you are ready, move smoothly into production with off-the-shelf display modules that offer 10+ years of availability as a minimum.
Join Hundreds of Happy Customers

What You Get When You Work with Us
Talk with Us
Request a 15-minute call with one of our engineers to talk about your project to quickly see if our modules would be a good fit. Or simply drop us a line. We've been helping customers add displays and touchscreens to products for a couple of decades. We think we'll be able to offer enough insight to be worth your time.