Connect your system's microcontroller to the serial LCD controller via a standard asynchronous serial port. Use simple ASCII commands to draw images, text, controls, and other interface elements. Controls report back over the serial line when activated or changed. Images are stored on the embedded LCD display's controller board in flash memory.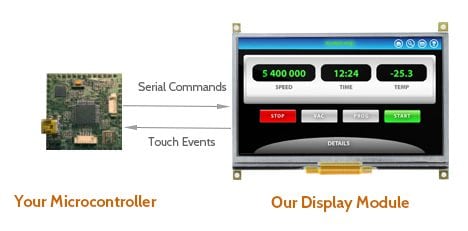 No Particular Operating System Required
Drag-and-Drop GUI Builder Tool
No Graphics Library Required
Get Started with a Development Kit
Embedded LCD Displays Demonstration
See examples of what you can do: on-board proportional and fixed-width fonts, parameter, label and simple math macros, easy to use buttons, save/restore drawing state, dynamic labels, text in a box, relative touch, data visualization charts, slider controls (compass, gauge meters), animation, scroll and rotate, and drawing primitives.
Want more detail?
Get the Software Reference Manual

 that contains a complete description of commands used in this example.
29 Customer Examples
Additional Support Materials
See Sample Code
Talk to a Reach Engineer
Documentation by Product
FAQ
Looking for an iPhone-like interface, more I/O, or drag-and-drop design environment?
Find a more advanced solution here.