It was a pleasure to finally find someone who knows something about adding an LCD to an embedded device.
More Customer Quotes
Kept Production Rolling Smoothly by Switching to Reach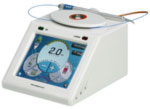 Advanced Laser was the first dental laser company to develop a lightweight, portable, and affordable diode laser. To stay on the leading edge, they decided to add a touch screen to their line of products. When their vendor's missed display shipments, they went from having product on hand to being back ordered. Advanced Laser worked closely with Reach to standardize on a touch panel form factor and LCD controller board, both with long-term supply availability. Now the SLCD6 Controller Board powers their 5.7" display modules and they have a history of reliable supply. Full Story
No Operating System Required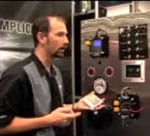 ISIS inTOUCH™ Intelligent Multiplex System, a joint development between Littelfuse and I Squared Engineering, replaces traditional vehicle wiring harnesses and allows users to program circuits that control electrical functions within a vehicle. They needed to add an LCD touch screen without doing a tremendous amount of research and development. Their hand-held wireless remote is a hit and won Product of the Year in the Mobile Electronics Category at SEMA using the Using the Reach 4.3″ Module. Full Story
Harsh Environment/Daylight Readability

Chetco Digital Instruments gauges can be found on tugboats and in other marine applications. They needed a rugged, daylight-readable, sealed unit built for years of dependable performance. 5.7" Display Modules give them the 560cd/m2 brightness they were seeking. Full Story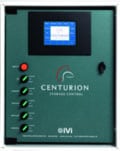 Industrial Ventilation is the leader in storage ventilation systems for the largest food producers in the world. They needed an LCD touchscreen that would hold up in harsh environments for their microprocessor-based embedded system that precisely manages storage climates by controlling the fans, evaporation coolers, humidification, Co2, heaters, refrigeration equipment, and fresh air intake. They were able to make the upgrade using the 5.7" enclosed unit with limited investment. Full Story
Display Quality

Many medical customers, like Sciton, maker of aesthetic laser systems, have strict requirements for product consistency, such as brightness uniformity, and overall display quality. They wanted an embedded touchscreen supported long term. They chose the 8.4" panel and our SLCD5 Controller Board for its small form factor and low energy consumption to power their BBL pulsed light systems for remote selection and verification of functions, such as pulse rate and power.
Handheld/Battery Operation

Sea Corp needed a wireless, battery-operated, handheld device usable in low light conditions for its Sonobuoy launchers, which are used to eject small, disposable sonar detection buoys into the water. They are using the 4.3″ Module for its small form factor and low energy consumption, remote selection, and verification of functions, such as RF channel and depth.