Can you get it built in time?
Do you have the necessary experience?
Are you able to recognize critical design choices when they arise/choose right ones?
Do you know implementation minutiae involved (i.e. cabling, timing, sequencing)?
If you answered no to the questions above, buying Reach display modules can save you time, money, and risk. If the following are true, it is likely better to build.
You have specific requirements not met by products on the market.
The production run will be sufficient to amortize development expenses.
The form factor or feature set mandates a custom solution.
Unit cost budget mandates an "in-house" design.
| | Reach Display Modules | In-house System |
| --- | --- | --- |
| Product | Modules come off-the-shelf. Production orders can be pulled in or pushed out. See Pricing and Availability and Long Term Supply. | Putting a new LCD controller board into production carries lead time and supply risks. Accurate demand forecasts must be developed to ensure availability and minimize excess inventory. |
| Design Costs | None | High: Research includes picking the right processor, selecting the most appropriate operating system; identifying reliable sources of LCD touch screen components. |
| Design Overhead | None | Each new part needs an Approved Vendor List (AVL), an enormous amount of work to do correctly. Single-source parts can have high minimum buys (e.g. 3K pieces/reel). |
| Operating System | Works with any operating system, and with or without, a host operating system. | You must choose an operating system and become (very) familiar with it if you're not already. |
| Learning Curve | Very short. | Very long, if your team is not familiar with the components, it will involve substantial time away from core responsibilities. |
| Analysis Paralysis | None. | There are many options. It's easy to spend more time evaluating your choices than creating the design. |
| Graphics Library | None required. Reach display modules come with a built-in library. | There are many libraries to choose from, and the advantages and disadvantages of each might become apparent only after you're deep into implementation. |
| Learning LCD Technology | None required. | LCD displays are unique: Datasheet timings can be incorrect, and required signal, power sequencing, and timing can be missing altogether. |
| LCD System Maintenance | Not applicable. | Total control of (and responsibility for) LCD touchscreen system maintenance, which includes changes in available products, supply, etc. |
Other reasons to buy a Reach display module rather than build
Time to market: If your schedule is tight, Reach display modules are the answer.
Low risk: Reach displays are used by hundreds of companies worldwide. Reach display modules are thoroughly tested and designed by highly experienced engineers.
Reliability: The Reach command protocol is straightforward and robust. No code added to your system that could cause problems. The hardware uses long-life components and generous operational margins.
Easy to debug: All commands are in easy-to-read ASCII, and the GUI interaction can be quickly logged to identify problems.
Firmware version control: Reach provides customers with reliable, repeatable firmware version control. You can order the same version you put into production — no upgrade surprises.
Works with any processor, from small 8-bit microcontrollers to 64-bit multi-core.
Instantaneous boot and shutdown.
Custom Modules
If our standard display modules are not a fit, we can provide custom modules if you have sufficient production volumes.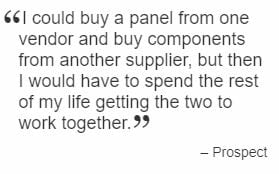 12-Page Report
Compare three options

for adding a touchscreen or display to your product by downloading the report when you enter your email below.