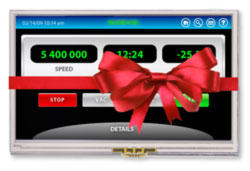 Search for answers online, or pick up the phone and be greeted by someone who can provide intelligent answers.
Technical and Presales Engineering Support
Get answers online: Explore our Download Center for hardware manuals, software downloads, application notes and tutorials and our searchable FAQ Database.
Contact engineering support: Tap into our 20+ years of touchscreen experience. Our team has vast knowledge of the complexities of displays, including cabling, signal levels, timing, backlight powering, and dimming.

Call us at 503-675-6464 or complete the following required (*) fields below and your email will be routed to a Reach engineer.

Looking for customer support?
Click here.
Need assistance with your application?
Visit our SLCD Applications Consultants page for a listing of individuals who have experience using Reach SLCD controllers in embedded applications.