Will the Reach solution work for my product?
If you are considering using a Reach LCD touchscreen display, this is a critical question. The answer is yes, if:
Your host microcontroller or microprocessor has an Asynchronous Serial port or a USB host port. If there is not a "spare" port available, you can use the Reach controller auxiliary serial port in "pass-through" mode to share a single serial port.
You don't need to display video or movie clips.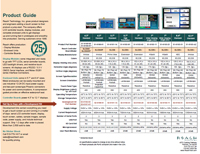 To choose which serial LCD display is the best fit, start with the LCD Display Product Guide. It contains a complete listing of the sizes, formats, unit types and other technical information you'll need to match your requirements with a Reach serial LCD display.
Commonly-asked questions:
1. How do Reach LCD touchscreen displays connect to my product?
The options are USB host port and asynchronous serial port. Both RS232 and 3.3V logic level physical interfaces are supported.
2. What sizes do Reach microcontroller displays come in?
Display modules are available in 4.3", 5.7", 7", and 8.4" diagonal sizes, while the enclosed units are 5.7", and 8.4". The 4.3" unit has a 16:9 aspect and can fit in a 2U chassis front panel. The Reach SLCD5+ board can power displays up to 12.1".
3. What pixel formats are available?
Reach offers QVGA (320 x 240), WQVGA (480x272), VGA (640x480), and WVGA (800x480) formats.
4. What configurations are available?
We offer LCD controller boards, display modules and enclosed units. Low cost serail LCD display development kits get you up and running quickly.
5. What processor(s) do you use?
Reach serial LCD controllers use off-the-shelf microcontrollers, both 16/32 bit CISC and 266 MHz ARM. The well-defined serial API makes the controller's processor is transparent to the user. As technology advances, Reach can adopt new processors with little impact to the user.
6. What operating systems are compatible with Reach products?
Reach serial LCD displays can be used with any operating system.
7. What are the power requirements?
The power requirements vary with the LCD panel sizes. The 4.3" unit can easily be battery powered. See the LCD Display Product Guide for more detail.
8. What fonts can I use if I use Reach LCD products?
Any True type or Open type font can be supported. Fonts are rendered and stored in the on-board flash memory. If you specify the font, size in points, and attributes (bold, italic, etc), Reach will provide the corresponding rendered font file.
9. Are Reach touch screens RoHS-compliant?
Yes. Reach serial LCD displays are compliant with the Restriction of Hazardous Substance Directive (RoHS). This is often referred to as the "lead-free" directive, but RoHS also restricts the use of other hazardous substances in electronic equipment.
If your question has not been answered
If the question you have in mind is not addressed above, go to our searchable database.
Still have a question?
Email a serial LCD display engineer or call our research and development office at 503-675-6464.