A standard asynchronous serial port connects your system's microcontroller to the serial LCD controller. Simple ASCII commands are used to draw images, text, controls, and other LCD interface elements, on the screen. The controls report back over the serial line when they are activated or changed. Images are stored on the serial LCD controller in flash memory.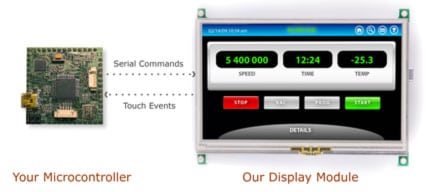 Microcontroller display simple to integrate
All microcontrollers, and even some DSP, have a serial port. In an upgrade situation, if no free port is available, the SLCD's second serial port can be used in "pass-thru" mode to connect to the replaced device. Serial transmit and receive are easily interrupt- driven, and the received control packets are small, to minimize processor overhead.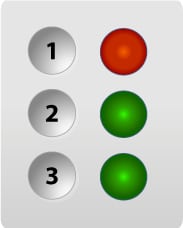 Simple-to-program LCD user interface
This simple control panel (see image at right) sets the state of three relays and shows the status of three signals. It is implemented by the following code.
Want more detail?
Get the Software Reference Manual from the Download Center. It contains a complete description of the "bdc" and "xi" commands used in this example.
No particular operating system required
Reach microcontroller displays work with any operating system, with or without a host OS. From full-blown, embedded systems running Windows, Linux, or QNX, to small RTOS, or a "bare metal" code, the LCD interface is the same.
Drag-and-drop GUI builder tool
We do not have a drag-and-drop GUI builder tool. Instead we recommend using a standard bit-mapped image development and manipulation tool such as Adobe® Illustrator®, Adobe Photoshop®, or a free program called GIMP (GNU Image Manipulation Program) to create images for your interface. Then use our Screen Layout Utilities program (a plug-in for GIMP) for image placement. See how to do this in our video tutorials.
Looking for an iPhone-like interface, more I/O, or a drag-and-drop design environment? Check out our new G2 Product. More
No graphics library required
The library is built into Reach microcontroller displays. Your embedded system does not require additional memory overhead for library code, and has more resources to perform its main tasks of controlling your product.
Display Module Demonstration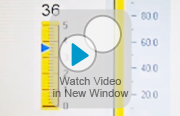 View a short video to see examples of what you can do with a Reach display module: on-board proportional and fixed width fonts, parameter, label and simple math macros, easy to use buttons, save/restore drawing state, dynamic labels, text in a box, relative touch, data visualization charts, slider controls (compass, gauge meters), animation, scroll and rotate, and drawing primitives.
Reach serial LCD displays come in these configurations:
How to learn more
You can do any, or all, of these:
Have more technical questions?
Get more information about how Reach products work with your product. Call our research and development office at 503-675-6464
503-675-6464 or email a microcontroller display engineer.